First Buyer of Ricky Lee's First Novel!
Submitted by noid on November 29, 2008 - 1:01am.
This morning, I saw Ricky Lee guest on ANC which reminded me that the launch of his first novel, Para Kay B (O Kung Paano Dinevastate ng Pag-Ibig ang 4 Out of 5 Sa Atin) was just two days away. Called their house and learned from one of their helpers, Ate Lourdes, that the books had arrived the night before.
So after lunch, went to Ricky's house which was just two blocks and a village away, and bought a copy of Para Kay B. Ricky was already home and I was able to have the book signed. He said that I was the first one to get a copy of the book! (Buena Mano as they say.) Actually, I think Ricky made an exception because I might be able to post a review before or when the book launches on Sunday -- hope I can finish it before then. :)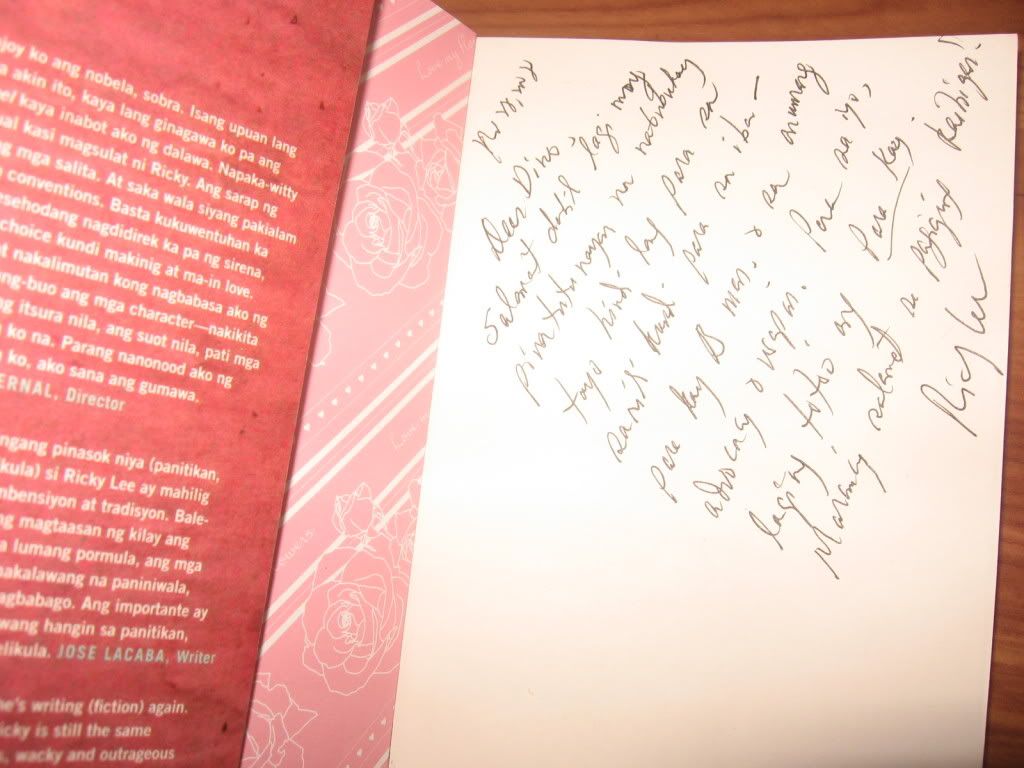 I was also supposed to buy a copy for my parents but Ricky's staff said they would prefer to sell me a bookmark instead. So what is this Para kay B bookmark? Well, as you may have already heard, Ricky is pre-selling copies of the book to bring the cost of the book down. The more copies they pre-sell and thus order from the printer, the cheaper the book gets. You can still buy the book at the pre-sell price of 220 pesos (instead of the launch price of 250 pesos). If you buy before the launch, you'll get the beautiful bookmark which you will present at the launch to get your copy of the novel. Also if you buy the bookmark, you can have your copy of the book signed prior to the launch.
To repeat, if you buy before Sunday, you'll save 30 pesos, you'll get the Para Kay B bookmark, and you don't have to line up (I'm betting the lines will be long) to have your copy signed! For inquiries, just call 9289557 and look for Moppet (the mystery girl below -- you can also text her at 0918-3844028, 0915-5133961), and tell her you read Dino Manrique's blog post. You can pick up your bookmarks at Ricky's house at 40 B. Gonzales Street, Xavierville I, Loyola Heights, Quezon City. Buy ASAP while they still haven't run out of bookmarks.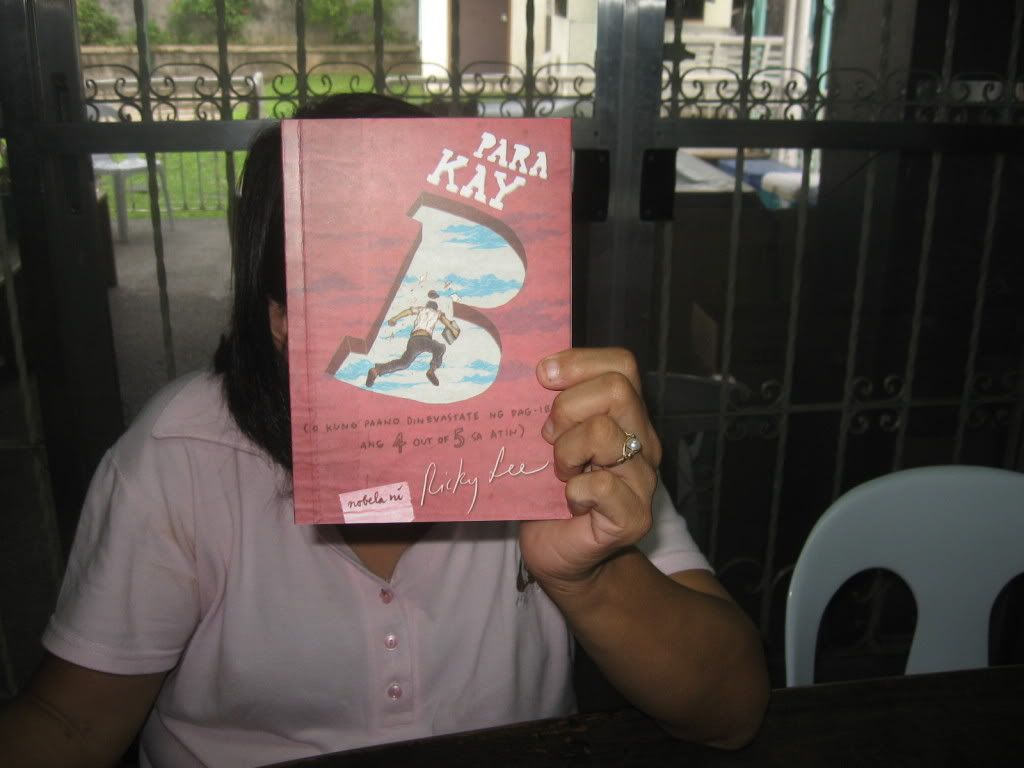 Btw, in case you're wondering what the novel is about, I was able to visit Ricky and talk to him a month ago and here's what he told me. According to Ricky, the novel is structured like stories within a novel, or as I would put it, stories within a longer story. The way each story is written is different, each with a different style, e.g. magic realism, realism, etc. and of course, set of characters (Ricky said numbering around 50). Ricky said that the language is accessible -- in Filipino, of course -- but not too pedestrian or facile. In other words, I guess what he was trying to say was that the language has literary merit. This morning, when he guested on ANC, Ricky said that they held focus group discussions to determine what readers of today, especially the young generation, prefer when they read. They found out that today's generation use and prefer Filipino or Taglish, and that they have shorter attention spans -- thus the language used for the novel and its structure.
I also encourage you to spread the word about the novel because Ricky is publishing his first novel for a good cause. Part of the proceeds will go to a welfare organization, which Ricky will set up, geared towards helping writers.  This writers' welfare org, similar to the filmmakers' MOWELFUND, will give away scholarships to young writers, and will also help writers who need financial assistance, e.g. to foot medical bills, etc. (To further finance this charitable undertaking, Ricky has already asked the help of his show business friends to donate possessions they aren't using anymore so that they can be sold in a shop which Ricky will put up -- many have already committed, he said.) So guys, by buying the book, you'll also be helping our writing community.
Speaking of the writers' community, see you guys at the launch on Sunday, 4pm at the  Bahay ng Alumni in University of the Philippines, Diliman. Just holler or raise your FilipinoWriter.com placards. ;) Looking forward to meeting all of you in person. :)